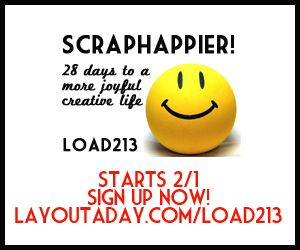 Whoooohoooo we are about a week away from Load213 starting. I am really looking forward to it starting on 2/1/13. You should have come from Regina's Site at Gina Beth Paper Crafting. This will be my first time taking LOAD but I am super excited. Some of the ladies that are participating in this hop have told me that the class is life changing. So I can only imagine how great this one is going to be considering its all about how to scrap happier. Who doesn't want to know how to scrap happier?
Here is a list of all the wonderful ladies that are participating in Load this year. I am not sure what I am more excited about the fact that this is an amazing class that is hosted by the wonderful Lain Ehmann or the fact that I get to be in a group with all these talented ladies and see what they are scrapping when they post to the Load Flickr group!!
From what I gather Load is going to make me connect with my inner scrapper. Yes I believe there is an inner scrapper. I call the inner scrapper the person that actually does all the scrapbooking and documenting but always seems to forget about themselves and doesn't document about themselves. I know that I am guilty of this. In the 13 years that I have been scrapbooking I just recently started documenting me and what I do. I am really looking forward to this amazing class that will beginning next month and learning more about myself and documenting me!
If you are just coming to me and you haven't seen the other ladies posts on why Load is such a great class I highly suggest that you do because they have some great reasons. Afterwards you can continue on this wonderful blog hop! Enjoy and I hope to see you in the Load213 Class.