I have said it before and I will say it again I hardly ever create a layout with only one photo. I created a two page layout with 6 photos total. I did 3 photos per page. I took all these photos basically one right after the other a few years ago when I bought my Nikon D5000 which I am still in love with by the way.
So this is really just a quick post to show you how quickly a layout can be brought together and completed.
I didn't journal too much on this layout. I really think the photos speak for themselves. My daughter was 2 years old in these photos. Now she is 5 I still miss that baby face!
Even though I scrapbook chronologically it doesn't mean that I scrapbook on time. I am ok with being behind in my scrapbook because for me I just think of it as looking back at the memories that we created.
P.S. There are only a few Load213 class spots left so if you are looking for some amazing inspiration and a life changing event then you should sign up for this amazing class that will be starting 2/1/13!!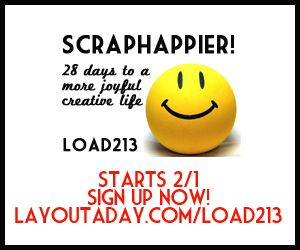 Also check out this amazing scrapbooking book that is full of inspiration and ideas of how to scrapbook. I participated in the blog hop this morning of some of the woman who are published in this book and already have tons of ideas swimming around in my head of layouts that I want to create.